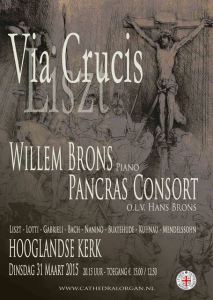 On 31st March, Emma will perform with prestigious pianist Willem Brons and the Pancras Consort (conducted by Hans Brons) in a concert of music for Holy Week. The concert includes piano music by Bach, motets by Buxtehude, Gabrielli, Kuhnau, Lotti, Mendelssohn and Nanino, and concludes with Liszt's 'Via Crucis' in which Emma will sing as a soloist.
The concert is arranged by Stichting Cathedral Organ Leiden. All proceeds go towards the restoration and installation of an 1892 Father Willis Organ in the Hooglandse Kerk.
The concert takes place in the Hooglandse Kerk in Leiden, beginning at 20:15.
Tickets (€15) are available on the door.