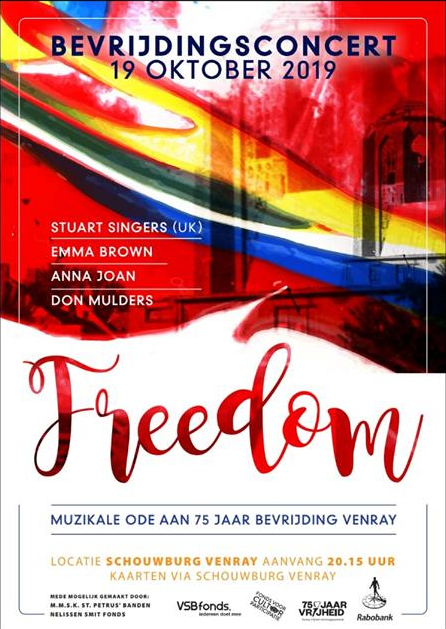 On 19th and 20th October, Emma will visit Venray, the Netherlands to sing in two concerts to celebrate the liberation of the town seventy-five years ago.
On 19th October she will give a concert with M.M.S.K. St. Petrus' Banden, The Stuart Singers, and vocalists Don Mulders and Anna Joan in the Schouowburg theatre. Some of the last surviving British veterans who liberated the town will be present.
On 20th October, after the ceremony at the British war cemetery, Emma will sing at Geijsteren Castle together with Theaterchor Niederrhein, The Stuart Singers, and the chamber choir of Geijsteren, together with the Reünieorkest van de Limburgse Jagers en het St. Willibrordusgilde uit Geijsteren, with conductor Geert Verhallen.
19th October, 20:15, Schouwburg, Venray, the Netherlands
For tickets, please follow this link.
20th October, 14:30, Geijsteren Castle, Venray, the Netherlands