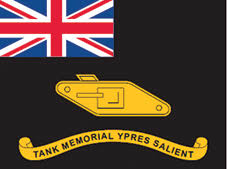 Emma is delighted to announce that she has been made an ambassador for the Tanks Memorial Ypres Salient and awarded life membership to the Friends of the Tanks Memorial.
The memorial, located in Poelkappelle, Belgium, commemorates the members of the Tanks Regiments who fought during the First World War in the Battle of Ypres. The construction of the memorial is based on the interior of a tank, with coloured paving stones showing where people sat and the confined space in a First World War tank.
Emma will receive her certificate when she visits Ypres this September to sing with the Army Wives Choir.