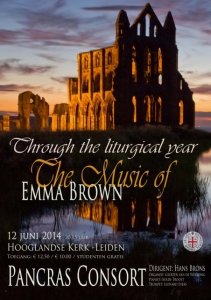 On Thursday, 12th June 2014, Emma will have her first solo composition concert. The evening will showcase her church music, moving through the liturgical year from Advent to Trinity. Several pieces will be premièred, including her playful settings of the Magnificat and Nunc Dimittis.
For this concert, she is delighted to be working with the Pancras Consort, a super amateur choir based in Leiden. They will be conducted by Hans Brons, and joined by organist Geerten van de Wetering from the Kloosterkerk in Den Hague, the church of former Queen Beatrix, pianist Isolde Troost, and trumpeter Leonard Evers. Emma will sing herself, performing three Songs of Eden.
The concert will take place in the beautiful Hooglandse Kerk, a cathedral-sized church in central Leiden, with a seven second echo.
This promises to be a special evening indeed, since it marks the culmination of Emma Brown's Master's course at the Royal Conservatoire in The Hague.
For more information, click here.