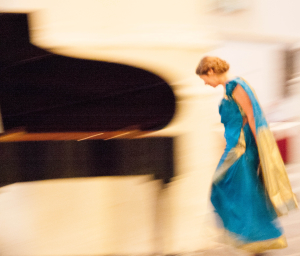 On Thursday, 12th June, Emma gave her final presentation for her Master's course at the Royal Conservatoire in The Hague. This was a full-length concert of her church-music compositions spanning the liturgical year from Advent to Trinity.
Emma worked together with the Pancras Consort, with conductor Hans Brons, organist Geerten van de Wetering, and trumpeter Leonard Evers. She sang three songs herself with pianist Isolde Troost.
The concert took place in the Hooglandse Kerk in Leiden. The church was filled with visitors, not just from Holland the the UK, but also from Germany, Belgium, and France. The Mayor of Leiden was also present.
It was a very special event. The concert took the form of a journey through the liturgical year, so the changing seasons of the church year were experienced in one evening. There were vibrant pieces with flamboyant organ accompaniment, intimate, a capella compositions, and a surprise trumpet solo. All in all the evening included eight premières: two songs and six choral pieces.
As well as the final presentation, Emma submitted a portfolio of compositions to the conservatoire, a thesis entitled "Music and Religious Experience: Developing a Theological Approach to Composition," and was examined in several subjects. She was delighted to have been awarded a 9 (excellent) for her Master of Music.
For more information, click here.