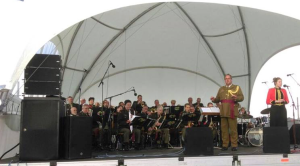 On 5th and 6th June, Emma will sing at the anniversary of the D-Day landings in Normandy, France. She will be accompanied by the Band of Liberation of the Royal Regiment of Fuseliers Brigade Princess Irene under conductor Simon Dubbelaar in memorial services and concerts of nostalgic and popular songs.
On 6th June, 1944, the Allies began the biggest seabourne invasion in history which ultimately led to their victory in the Second World War. The evening before saw a battle for Pegasus Bridge.
Emma will sing in the memorial service in Colleville-Montgomery, which will be attended by verterans, and in the service of the Royal British Legion in Bayeaux Cathedral. She will also perform during a midnight ceremony at Pegasus Bridge, and in various concerts throughout the region.
Emma is delighted to be joining the Band of Liberation for a second time, following their concert for the Liberation of Texel on 20th May.