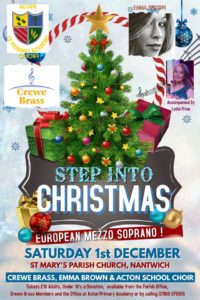 Emma will join Crewe Brass, Acton Academy Choir, and Lydia Price for a Christmas concert at St. Mary's, Nantwich. It will be a mixed and festive programme.
The concert will be broadcast live to Leighton and North Staffordshire Hospitals.
Saturday, 1st December, 2018, 19:30, St. Mary's, Nantwich, United Kingdom.
Tickets priced £10 (adults) and £8 (concessions) are available through +44 7866 076926.
For more information, please see this link.