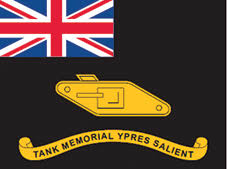 The Battle of the Lys, also known as the Fourth Battle of Ypres, took place between 7th and 29th April, 1918. It was part of a German offensive known as the "Spring Offensive" whose goal was to recapture Ypres from British Forces. There were over 200,000 casualties and losses. On 29th April, the German High Command called off the offensive.
The First World War was the first war to involve tank warfare. The Tanks' Regiment was formed by the British Army in 1916. Tanks were first used in 1916 in the Battle of Flers-Courcelette in the Somme. During the Spring Offensive, the Germans used tanks in large-scale warfare for the first time. As the First World War progressed, tank warfare became increasingly common. It was perilous. Tanks often became stuck in mud, leaving soldiers vulnerable to shells and gunfire. However, only about a quarter of the casualties in the Tank Regiments occurred in tanks: many fell after dismounting to fire machine guns. The Tanks' Regiment earned great respect from the Infantry Commanders to whose battalions they were attached.
The Tanks Memorial Ypres Salient is a monument in Poelkapelle, Belgium. On 15th April, a ceremony will held at the monument at 16:30 followed by a service in St. George's Memorial Church in Ypres. Emma will sing at both ceremonies.
Sunday, 15th April, 2018
16:30 – Tanks Memorial Ypres Salient, Poelkapelle: blessing and placement of wreaths.
18:00 – Remembrance Service in St George´s Memorial Church in Ypres commemorating the centenary of the Battle of the Lys.