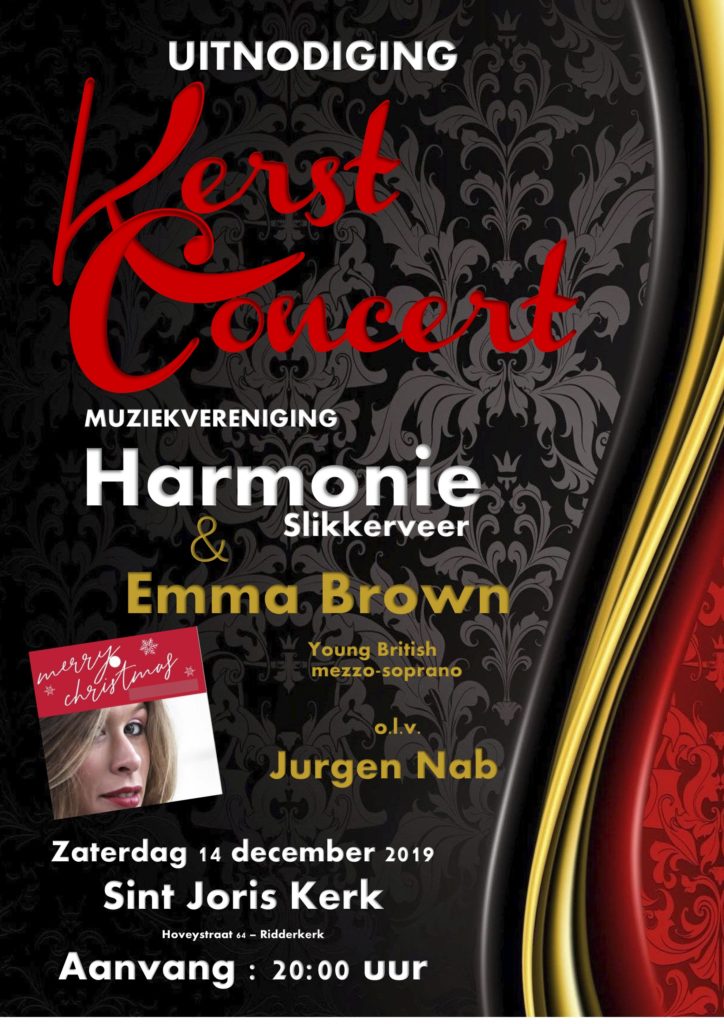 On Saturday, 14th December, Emma will join Harmonie Slikkerveer and conductor Jurgen Nab for a Christmas concert. They will perform a range of Christmas music, including traditional British Christmas carols.
The programme begins with "Once in Royal David's City," a tribute to King's College Cambridge and the late Sir Stephen Cleobury. Carols from King's is a century-old tradition, broadcast on BBC radio and more recently on television. During her studies at Cambridge, Emma attended the recording of the television broadcast in 2003 and remembers fondly dinners with Dr Cleobury and the choir.
In addition, the programme includes well-known English carols such as "Hark! The Herald Angels Sing!," "Silent Night" and "O Come All Ye Faithful," as well as the beautiful old Dutch carol "Nu syt welle kome."
Emma arranged "Ave Maria" – allegedly by Caccini but actually by the Russian composer Vladimir Vavilov – especially for the concert: her first arrangement for Fanfare Orchestra.
There are also compositions and arrangements by Philip Sparke, Harrie Janssen, and from the Salvation Army carol books.
It promises to be a wonderful, festive evening.
For more information (in Dutch), please follow this link.
Saturday, 14th December, Sint Joris Kerk, Ridderkerk, the Netherlands