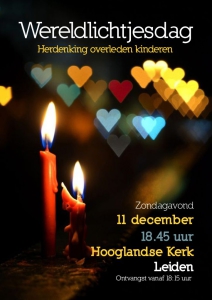 On Sunday, 11th December, Emma will sing at a Worldwide Candle Lighting Ceremony (Wereld Lichtjesdag) to honour the memory of children and young people and to show compassion to their families. This tradition began in the US in 1997. All around the world, on the second Sunday of December, candles are lit at 19:00 local time.
In Leiden, the Netherlands, the ceremony will be held in the Hooglandse Kerk. The famous family therapist, Else-Marie van den Eerenbeemt, will lead the ceremony. Emma will sing 'Londonderry Air,' the song of mother parting with her son, and the lullaby "Wiegala" by Ilse Weber. Ilse Weber was a children's nurse in Theresienstadt during the Second World War. When the children in her care were sent to Auschwitz, she accompanied them voluntarily, even into the gas chamber. Her simple lullaby is beautiful and haunting.
The event has been organised in Leiden by Xenia Children's Hospice.
The ceremony begins at 18:45, with the doors open from 18:15. All are welcome.