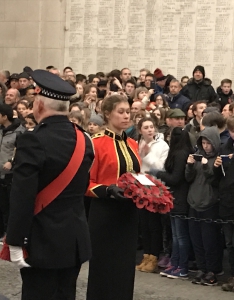 2016 has been a wonderful year with a huge variety of experiences, including Remembrance ceremonies in Normandy and Ypres, concerts for veterans, singing in Tattoos in Northern Ireland, the Netherlands and Poland, oratorio solos, Lied recitals, and thigh-slapping as King Arthur in The Hague's expat pantomime. It is now two and a half years since I graduated and I would like to use this moment to reflect.
One of the lessons I have learned is that the most satisfactory performances are often nicely unexpected. I first realized this one rainy day back in March, 2010. A friend called me with a rotten cold to ask if I would replace her singing 'Ave Maria.' It turned out that I was to sing to a terminally-ill lady in a hospital. I found it very difficult to hold back my tears, knowing that this lady was soon to die and leave her daughters behind.
That same day, I sang for the first time at the Dutch National Opera. A conductor had invited a group of conservatoire students, myself included, to sing as a chamber choir in Dallapiccola's opera "Il Priggioniero." I was twenty-four and singing in a world-famous opera house: a potential moment for excitement, even pride. Instead, my thoughts turned back to the seven people in the hospital.
After I graduated, I spent the best part of a year earning through singing alone. Whilst I enjoy singing, I find networking, self-promotion and auditioning tiring, expensive, and demotivating. I therefore decided to be more selective about where and what I sang. Since then, many interesting opportunities have opened to me. In particular, singing with the Band of Liberation and the West Yorkshire Police Band at remembrance ceremonies in Normandy, Ypres and the Netherlands. 
Remembrance ceremonies are humbling. As I stood preparing to sing during the Last Post ceremony at the Menin Gate on Armistice Day, I noticed the plaque on the wall: "To the armies of the British Empire who stood here from 1914 to 1918 and to those of their dead who have no known grave." My stomach turned. I had mistakenly thought the thousands of names on the gate were of all those who died in Flanders. But the names are in fact only those who went missing in the battle of Ypres alone: a mere fraction of the total losses.
When one sings at a remembrance ceremony, a children's hospice, or an old people's home, it does not feel like a performance, but like an act of service. There is very little I can do to atone for the war dead or for the traumas of survivors. But I can sing, and maybe, though singing, I can show my respect to them and my gratitude for the freedom and comfort in which we live today.
And this is where I find satisfaction in my work: in singing as serving. Of course, it is thrilling when large audiences are appreciative – I will not easily forget the sound of 11,000 people clapping at cheering at the Belfast Tattoo – but the most beautiful moments are when one feels a sense of duty done.
There are already several performances planned for 2017 including remembrance ceremonies in Normandy and Flanders, military tattoos, lied recitals and oratoria.