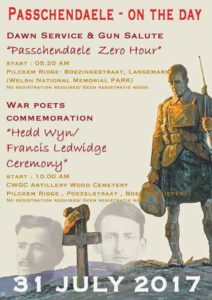 To mark one hundred years to the minute since the start of the Battle of Passchendaele, at 05:50 am CET on 31st July, 2017, a World War One cannon will be fired from the spot where the battle begun in Langemark, Belgium.
There will be a ceremony of remembrance beginning at 05:20. Emma will sing "Going Home," "Danny Boy," and the German song "The Good Comrade" ("Ich hatt' einen Kameraden"). "The Good Comrade" was composed in 1809 and is traditionally sung during burial ceremonies of the German Armed Forces.
The ceremony includes music, poetry, readings from war diaries, and the Last Post ceremony. Also providing music are violinist Tracey McRory, Field Marshal Haig's Own Pipes and Drums, folk singer Davy Holt, and the North Wales Rugby Choir.
The service is open to everyone and the public are invited to volunteer to read. The spirit is of remembrance "by the people for the people."  The organization aims to make the service to be as inclusive as possible and to remember all the fallen, regardless of the side on which they fought.
Assemble 05:00 for 05:20 ceremony, Welsh National Memorial Park, Langemark.