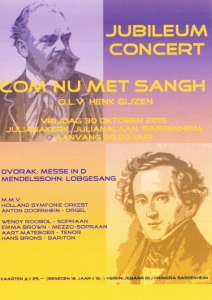 On Friday 30th October, Emma will sing at the sixtieth anniversary of the oratorio society "Kom nu met Sangh." This long-standing choir, founded in 1955, have invited Hollands Sinfonia and soloists Wendy Roobol, Emma Brown, Aart Mateboer and Hans Brons to perform Dvořák's Mass in D and Mendelssohn's Lobgesang under conductor Henk Gijzen.
The concert takes place in the Julianakerk in Sassenheim, starting at 20:00.
Tickets, costing €25, are available at Primera, Sassenheim, and on the door.