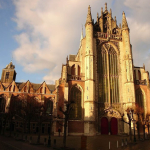 On Thursday, 3rd September, Emma will appear in a sound and lights show to celebrate 700 years of the Hooglandse Kerk in Leiden, the Netherlands. At this inspiring open-air event, a lights' display will be projected onto the south face of the magnificent church, accompanied by live and pre-recorded music. Emma's motet, 'O Nata Lux de Lumine' will be performed live by the Pancras Consort. Emma appears as a guest soloist, singing the 'Agnus Dei' from Bach's B-minor Mass. 
The event begins at 21:00 in the Hooglandse Kerkplein. It is free of charge.
More information (in Dutch) can be found here and here.
This event has been organised by De Blauwe Uur.