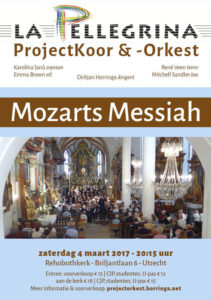 On Saturday, 4th March, Emma will sing as the alto soloist in Mozart's arrangement of Handel's Messiah, with conductor Dirkjan Horringa and La Pellegrina choir and orchestra. Mozart arranged Handel's Messiah in 1789. It was intended for use in private concerts hosted by Baron van Swieten in Vienna. As well as promoting contemporary composers such as Mozart, Hadyn, and Beethoven, Baron van Swieten also (and unusually) arranged concerts of music by deceased composers such as J.S. Bach and Handel.
Mozart arranged Handel's Messiah for a private concert hosted by van Swieten on 6th March, 1789, almost thirty years after Handel's death. Mozart himself conducted. For more information about Mozart's arrangement of the Messiah, click here.
The concert will take place at 20:15 in the Rehobothkerk, Briljantlaan 6, Utrecht. Tickets (€18/€15) are available at the door, and may be reserved in advance with a reduced fee (€15/€12) here.