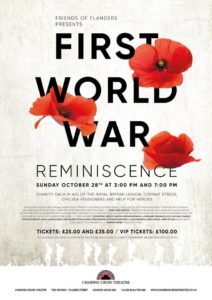 The organisation "Friends of Flanders" has arranged a charity gala at Charing Cross Theatre, London, to raise money for veterans charities including The Royal British Legion, Combat Stress, Chelsea Pensioners, and Help for Heroes. Emma will sing 'I vow to thee my country,' 'Jerusalem,' and 'Tell My Father' and participate in a premiere of a new work by singer-songwriters Dan and Laura Curtis.
Sunday, 28th October, 15:00 and 19:00, Charing Cross Theatre, London
Tickets are available here.