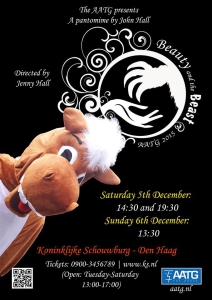 On 5th and 6th December, Emma will star in the expatriate pantomime in the Theatre Royal in The Hague. She will play the role of Beauty ('Tamara') in John Hall's "Beauty and the Beast." Tickets are available here.
NB Pantomime is een traditioneel Engelse vorm van theater die haar wortels heeft in de 'comedia dell ' arte.' Een bekend sprookje wordt op geheel eigentijdse wijze verbeeld met onder anderen personages die zich als het andere geslacht verkleden. Daarnaast worden er populaire nummers gezongen, wordt het publiek ook betrokken in het verhaal en worden er veel grappen gemaakt. De Pantomime wordt in het Verenigd Koninkrijk gezien als een familie-voorstelling en wordt traditioneel uitgevoerd tijdens de dagen rondom kerst.
Pantomime heeft dus helemaal niets te maken met het stille theater dat in Nederland als "pantomime" bekend staat.